Vancouver, BC – Nothing says BC like White Spot! The BC born-and-raised restaurant chain is boldly laying claim to the official title of BC's Own – reflecting a long-time commitment to supporting communities, farmers and suppliers across the province, from Vancouver Island to Northern BC, and just about every place in between. White Spot buys more locally-sourced ingredients than any other full-service chain restaurant in BC, another way White Spot is BC's Own restaurant.
From playful, eye-catching billobards to stories about all the ways White Spot touches the lives of British Columbians, the restaurant's biggest campaign to-date features real staff and guests, and connects with people of all ages. A 60-second, day-in-the-life of White Spot video can be viewed here, or downloaded here.
"At White Spot, we want everyone to feel at home," says White Spot President Warren Erhart. "That includes long-time guests, and the thousands of people who come to our province every year. Our heritage is something that's very much unique to White Spot. Since we opened in 1928, we've been making real connections with the people of BC, one Legendary burger at a time."
"As the times change, so do we," adds Cathy Tostenson, Vice President of Marketing & Menu Development. "We're constantly reinventing our restaurant to stay exciting, modern, fresh and relevant, while staying true to our roots."
White Spot's deep community ties inspired the tagline BC's Own and set the tone for the campaign, which involved local creative agency One Twenty Three West and local media agency DSA Media.
"If you grew up in BC, you probably have fond memories of White Spot," says Rob Sweetman, Founder and Executive Creative Director of White Spot's agency of record, One Twenty Three West. "We wanted to remind people of why they fell in love with the brand in the first place, while welcoming newcomers. If you're in BC, this is a place you have to visit."
The campaign will appear on a wide range of media, including TV, radio, outdoor, digital, mobile and social to reach the diverse audiences around our province.
A new, distinctly West Coast menu design entertains guests with stories about White Spot's unique BC history, and proudly features classic burger favourites and new dishes that respond to requests for more vegan, vegetarian and gluten-free dishes. White Spot even has a burger named after our province, the BC Burger!
Did you know?
White Spot serves more than 30,000 guests every day. That's over 12 million people a year!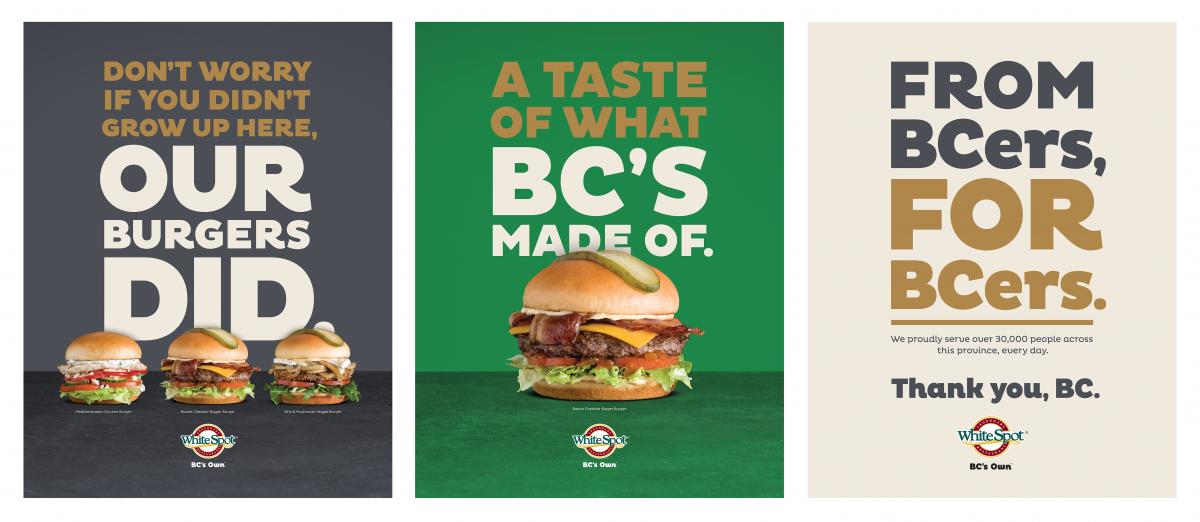 ---
Connect with us
whitespot.ca
instagram.com/whitespot_restaurants
facebook.com/whitespot/
About White Spot
Headquartered in Vancouver, British Columbia, White Spot is Canada's longest-running restaurant chain, celebrating their 90th year. Founded in 1928, when Nat Bailey launched Canada's first drive-in restaurant at Granville and 67th, the 90-year-young chain now sees more than 17 million guests annually at 133 White Spot and Triple O's locations throughout B.C., Alberta and Asia. Bailey's original vision was to build a restaurant that served the highest quality, unique tasting food and White Spot remains committed to continuing this tradition in each and every meal. White Spot Limited is proud to be recognized with the platinum status designation as one of Canada's 50 Best Managed Companies and one of Canada's top 150 iconic brands as awarded by Interbrand Canada.
Media contacts:
Cathy Tostenson
Vice President, Marketing and Menu Development
White Spot Restaurants
604-326-6740
Jeremy Twigg
FleishmanHillard HighRoad
Jeremy.Twigg@FHhighroad.com
604-306-4036